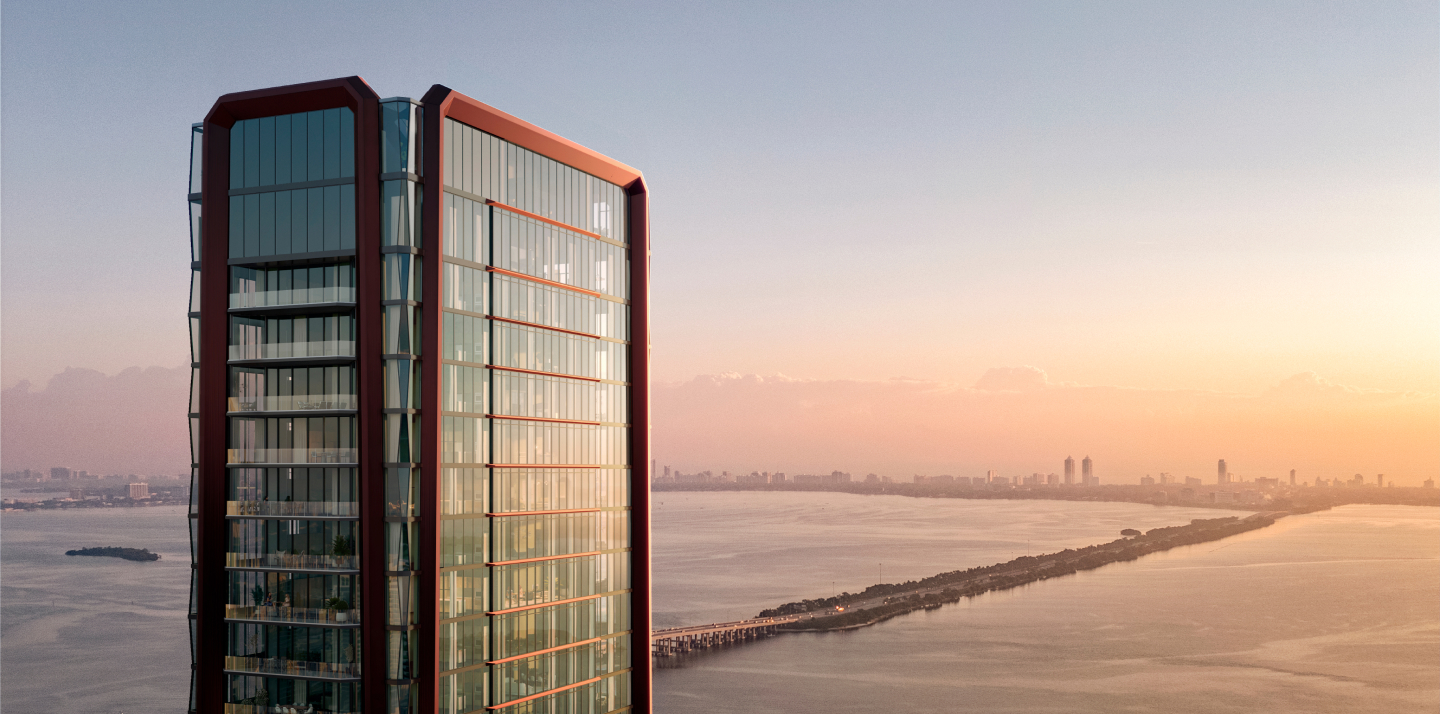 Airy, Italianate living in the heart of Miami
New York design studio Charles & Co developed the residence interiors by marrying a sophisticated European sensibility with a focus on warmth, romance, and the waterfront. Estate-style residences overlook the bay, beaches, and beyond, while sitting high in the sky.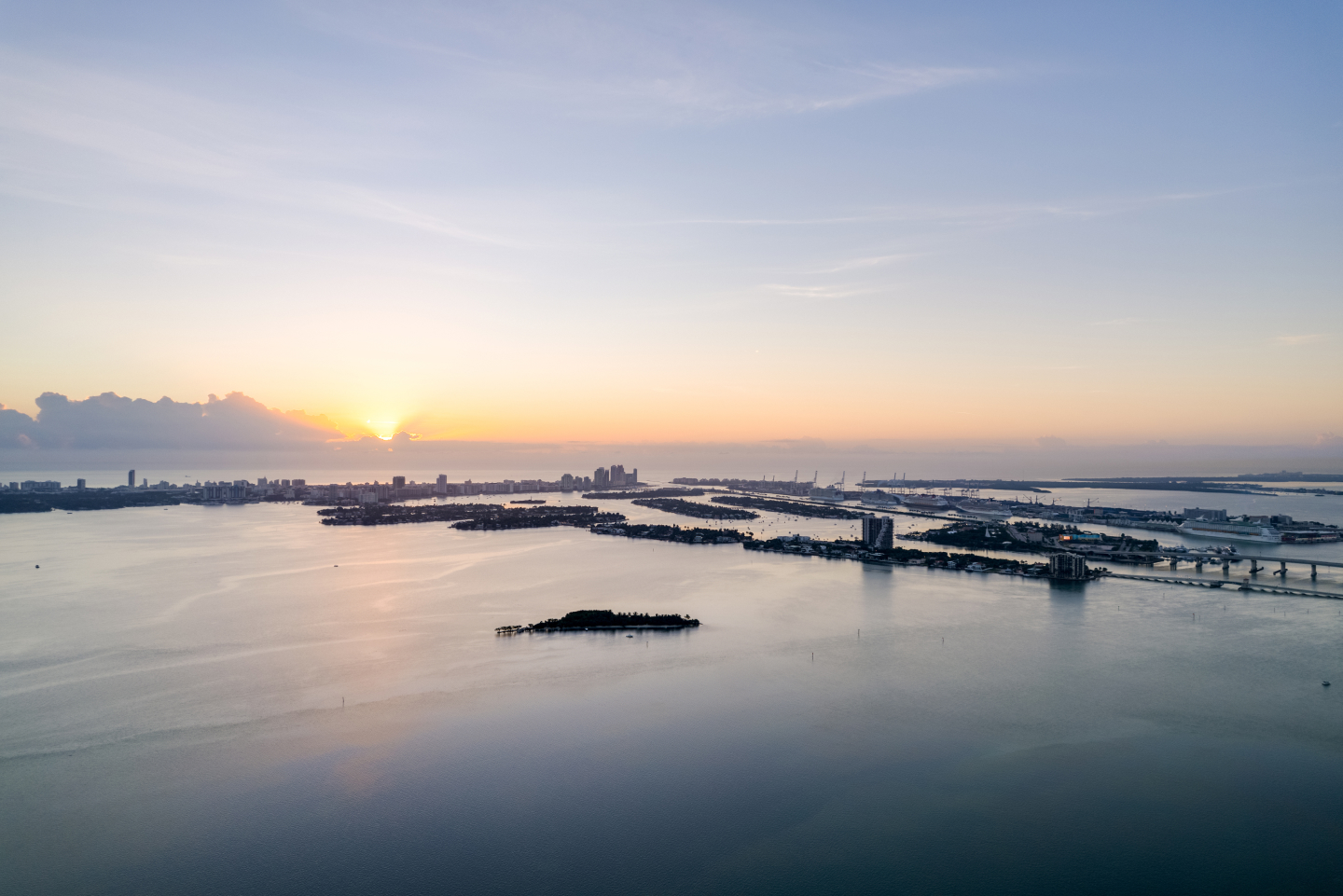 views
from sunrise to sunset, a life designed around the horizon
Homes with a private, 360° view of Biscayne Bay and the lights of Miami, and the far-stretching beaches beyond. Sunlight at every hour. Wake to the morning light rising over the Atlantic, and take aperitivo on the back veranda while the sun sets.
Terraces bookending the east and west end of every residence allow for maximum natural light and views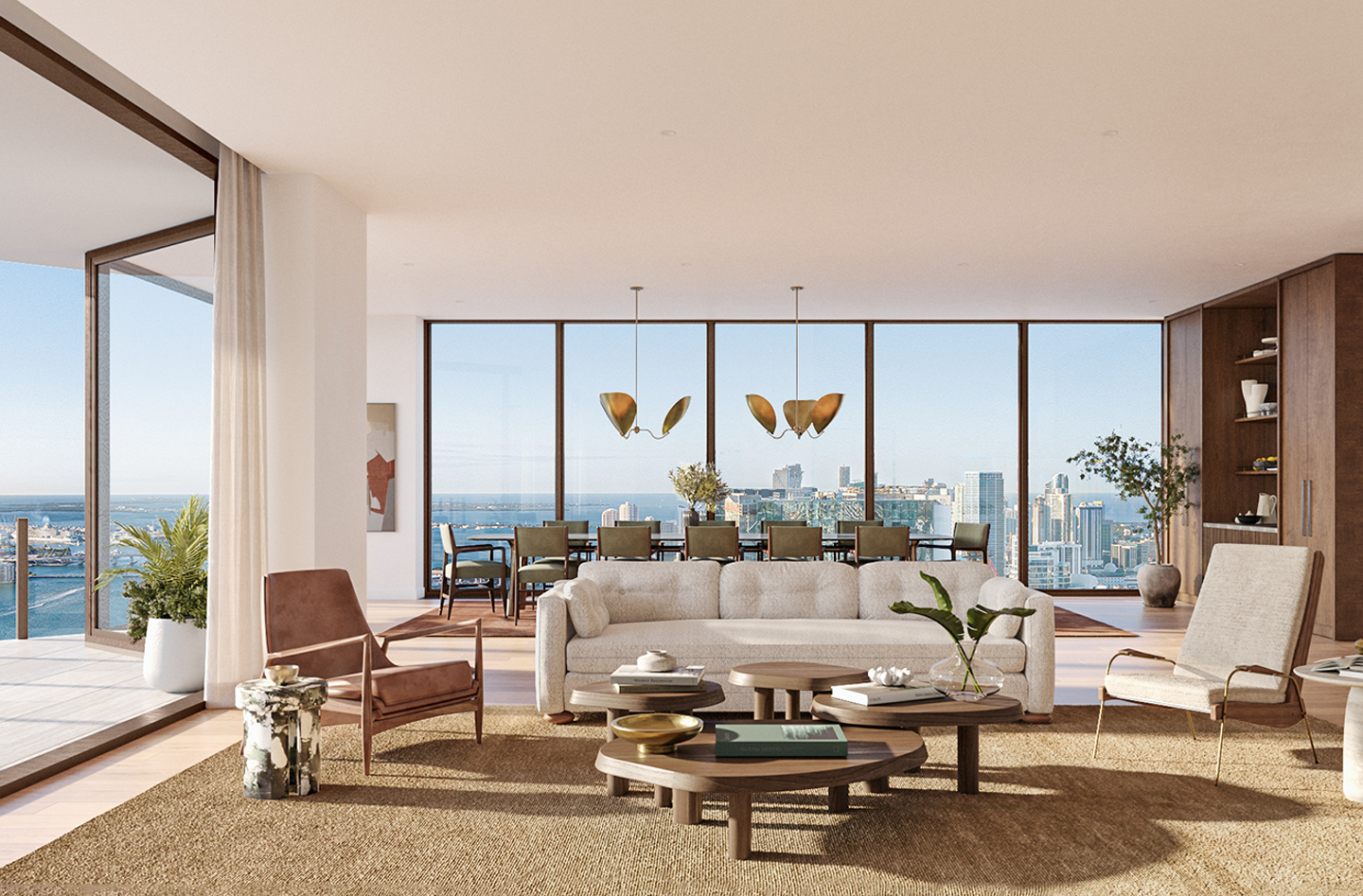 great rooms
old-world elegance with every modern convenience
Each residence at Villa Miami is designed as it would be in the European countryside: With sunlight pouring in from all directions, sprawling living rooms made for gathering and lounging, and dining rooms meant for big groups and late nights.
Floor-to-ceiling energy efficient windows throughout provide unobstructed views
Entry foyers open to expansive floor plans featuring 10-foot ceiling heights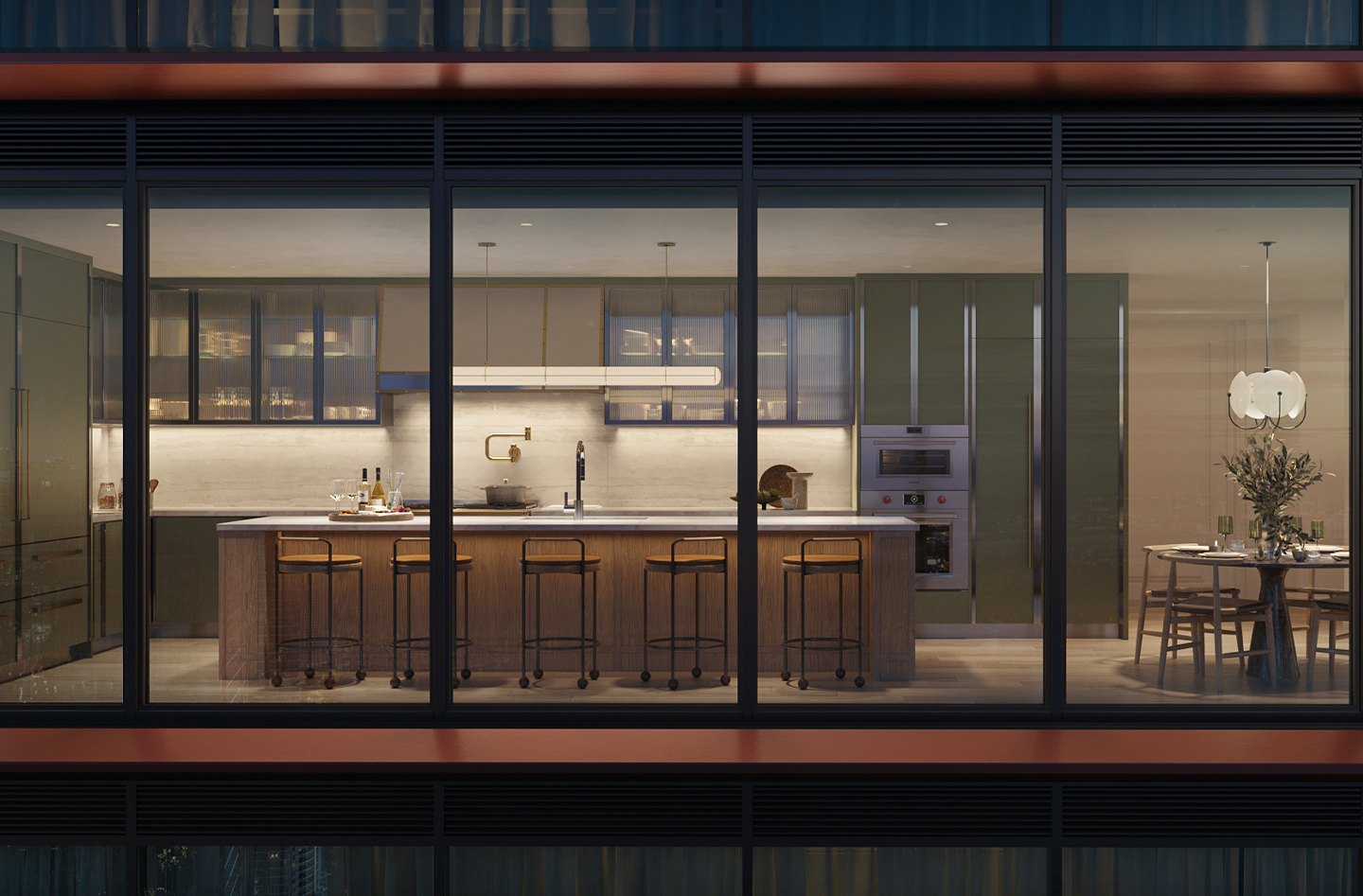 kitchens
Michelin star-worthy chef's kitchens in every home
The kitchen is the heart of the home, so residences are equipped with chef's kitchens, designed by MFG's Mario Carbone. CornuFé series ovens and stovetops from La Cornue, Wolf appliances, and pasta sinks marry a traditional culinary ethos with state-of-the-art standards. This is where your family unwinds, friends gather, and where you perfect your agnolotti.
Designed by MFG's Mario Carbone
Chef's style kitchen featuring pasta tanks and convection steam ovens
Italian cabinetry and wine fridge
CornueFé, Sub Zero and Wolf appliances
Grocery stocking options available
Materials Palette







Good design is a representation of a good life. we create spaces that are not merely photo ready but living ready"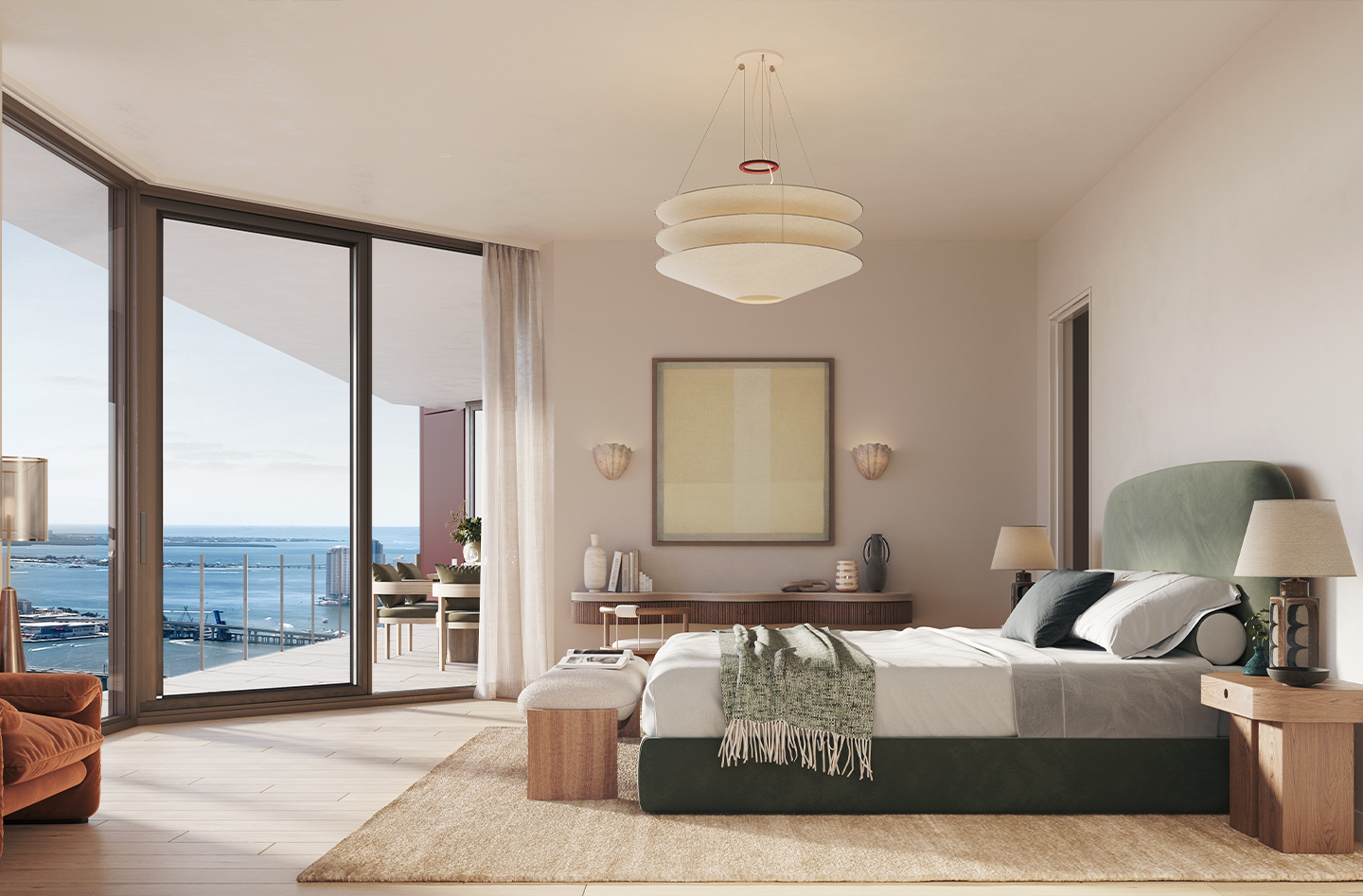 bedrooms
Wake up to panoramic views of the water
Start every day with a view of the bay, and go to bed with the lights of Miami twinkling in the distance. Bedroom suites at Villa come with unending views, in addition to expansive floor plans for even-more-intimate lounging — to say nothing of the private dressing rooms. 
Spacious primary suites with sweeping views, lounge area, and direct balcony access
Gracious atelier-style dressing rooms with shelving and storage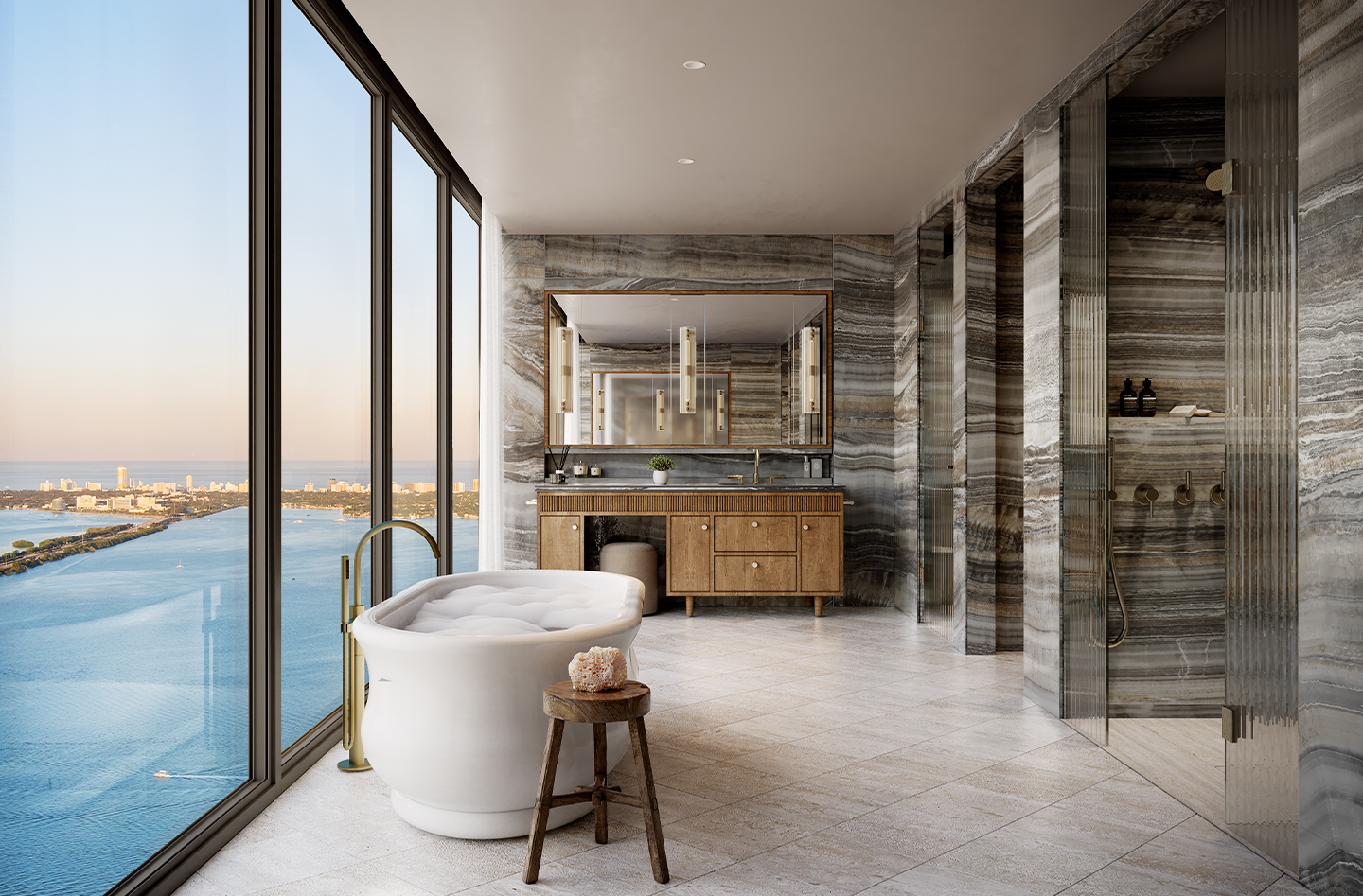 bathrooms
Wind down each night in the deep soaking tub of your dreams
Opulence is in every detail in the bathrooms, which are essentially an extension of the hydrotherapy amenities downstairs. Curved, deep-soaking tubs and soft marble, brass, and fluted glass finishes throughout create a sense of embrace.
Full bathrooms in every bedroom with oversized soaking tub in the primary bathroom
Dornbracht and Duravit fixtures and trim
Primary bathrooms feature travertine porcelain floors and Greige Onyx
Porcelain walls
Materials Palette





Floor Plans
Villa pianofull Floor Residences
| | | | | |
| --- | --- | --- | --- | --- |
| 5 Bedrooms | 5 Bathrooms | 1 Powder Room | 6,548-6,618 SF | Floor Plan |
| 4 Bedrooms | 4 Bathrooms | 1 Powder Room | 6,548-6,618 SF | Floor Plan |
Villa MezzoHalf Floor Residences
| | | | | |
| --- | --- | --- | --- | --- |
| South 4 Bedroom | 4 Bathrooms | 1 Powder Room | 3,281-3,316 SF | Floor Plan |
| South 3 Bedroom | 3 Bathrooms | 1 Powder Room | 3,281-3,316 SF | Floor Plan |
| South 3 Bedroom + Office | 3 Bathrooms | 1 Powder Room | 2,936-2,972 SF | Floor Plan |
| South 3 Bedroom + Bonus | 3 Bathrooms | 1 Powder Room | 2,936-2,972 SF | Floor Plan |
| North 4 Bedroom | 4 Bathrooms | 1 Powder Room | 3,267-3,302 SF | Floor Plan |
| North 3 Bedroom | 3 Bathrooms | 1 Powder Room | 3,267-3,302 SF | Floor Plan |
| North 3 Bedroom + Office | 3 Bathrooms | 1 Powder Room | 2,936-2,972 SF | Floor Plan |
| North 3 Bedroom + Bonus | 3 Bathrooms | 1 Powder Room | 2,936-2,972 SF | Floor Plan |